How to Avoid Problem Gambling in Australia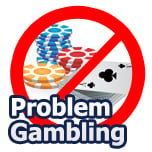 Everyone loves to take a punt every now and again, whether it be a spin on the pokies, a few hands of blackjack or a wager on their favourite team, but sometimes that desire to play the odds can get too much. Indeed, for some people gambling is a real issue that can not only cause them to lose their bankroll but their family, their homes and their lives.
Thankfully, we now live in a time where tackling the issue of gambling addiction is a lot easier. Owing to major technological advances in the online casino and sports betting world, it's now possible for sites to spot fragile customers and prevent them from playing.
More Aussie's Go Down Under
According to a report conducted by the Economist in 2014, Australians lose more money than any other nation when it comes to gambling. Quantifying their claim with an average spend per gambler figure, it seems that many of those affected by gambling addiction lose around $1,144 each year.
Although this may seem somewhat low, the important thing to remember is that such a figure is an average and takes into consideration everyone who placed at least one losing wager. Indeed, while some people will lose less than $100 a year, some will wave goodbye to much more than that.
One of the reasons given for Australians propensity to gamble and, subsequently, have a problem with gambling, is the availability of pokies. These slot machines are found in almost every large leisure complex in Australia and contribute a huge amount to the economy through taxation. Because of this accessibility it's clear to some industry watchdogs that people are more likely to develop a gambling problem than in places where such games are less readily available.
Stopping the Leak
Every gambler will have a leak in their game and while some will endeavour to fix this negative cash flow, others will simply let it gradually destroy them. Indeed, no amount of support, help, guidance and advice can affect a person who is unwilling to help themselves.
Fortunately, for those people who are willing to control their gambling, both live and online casinos in Australia have methods in place to limit gaming activity and one of the most effective is government intervention. According Nick Xenophon, an independent Australian senator, the government should be looking to cap the amount of money a punter can risk on a pokie.
For example, if someone was to visit their local Aussie casino and ante-up at a pokie machine, there would a limit to the amount they can risk in a single session. That limit isn't yet in place but Nick has been pushing for a $1 maximum bet with hourly losses capped at $120.
This push by Nick isn't unique but controlling problem gambling in the live arena isn't a simple task. Indeed, because people can fly under the radar and pay with cash, it makes it very hard to track and control their movements. In contrast, however, monitoring the actions of an online gambler is a lot easier. Through a number of impressive systems, Australian online casinos not only have their own tools for helping people but a range of tools on offer so players can help themselves.
Your Way or Their Way
The most powerful gambling control tool available at all online casinos, sports books and poker sites in Australia is the self-exclusion option. By ticking a box, entering a time-frame and entering their password, a player can lock their account for a period of 1 year+. After doing this they are no longer able to access games, deposit funds or receive any bonus offers. Moreover, if the site in question is part of a wider self-exclusion scheme it means that the block is extended to every site on the network.
Another powerful player tool is the limiter. Activated in a similar way to the self-exclusion option, this measure allows players to restrict the amount of money they can deposit on a daily/ weekly/ monthly basis as well as the stakes available to them. For example, a player can enact a $50 a month deposit limit as well as a $0.50 max bet restriction to help curb their spending.
One thing to note, however, it that as good as these tools are, they are useless if a player isn't willing to enforce them. For that reason, some online casinos in Australia have the power to spot problem gamblers and take action against them. Because every online operator has certain obligations they must fulfil in order to keep their licence it's in their interest to keep players safe.
Thus, to combat problem gambling, they have the ability to review a player's account and track their betting patterns. Using some powerful pieces of software, analysts can pick up problem gambling patterns and take steps to intervene if necessary. In general the first method is to contact the player and ask them to consider limits or self-exclusion. However, if this doesn't work they have the ability to restrict a player's actions through automatic deposit limits and reduced access to games.
Gambling is Safe
Gambling, whether it's in the live arena or the online world, should be an enjoyable and profitable experience. However, sometimes the allure of the dollar gets too much for some and it becomes a problem. Thankfully, this problem can be addressed and taken care of by Australian casinos thanks to a number of proactive and reactive strategies.
Further Problem Gambling Resources
Government help Via Region