Online Baccarat Casinos Australia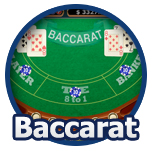 Many people believe that baccarat is an outdated game that only older casino patrons enjoy. This is far from the truth. With the surge of online casino popularity, online baccarat has found new life and an entirely new generation of players. Young casino baccarat players have developed new strategies to give themselves an edge over the casinos, and the game has been given a new start in the world of casino games.
Australian online casino players are some of internet baccarat's biggest new fans. The country has always embraced the game in their casinos, but new players and experienced pros alike are finding that they truly enjoy the ability to play baccarat online. The convenience and game choices make it more interesting and exciting than any live game in the casino.
Baccarat has found new life with the popularity of Internet gaming.
Online baccarat is quickly becoming popular with players of all ages and experience.
Try baccarat online after reading the game rules and our strategy suggestions.
#
SITE
BONUS
REVIEW
PLAY NOW
The Revival of Baccarat
Baccarat is a game that hails from the 14th century in Italy, and it was a longtime favorite of people in many countries. Sometimes known as punto banco, the game has grown into a primary method of play in which the player and the banker each rank their cards to see who has the higher score. Some forms of baccarat allow both the player and the banker to make choices about their hands, which lessens the edge of the casino in the game. The house edge of casino baccarat is usually equal to or less than one percent.
For many years, the game lost popularity in major casinos in Australia and elsewhere, and most people in the chairs at the casino baccarat tables were elderly gentlemen. And in some casinos and cities, especially in places like Las Vegas, the game became one of high stakes, where very rich players would gamble up to tens of thousands of dollars per hand. Those games were kept out of sight, thus another reason that many of today's players didn't know much about baccarat.
Australian online casino players took an interest in it in recent years because of the option to play baccarat on the internet. Gamblers enjoy learning new games, and this was a good one. Many recognized it from live casinos or from many James Bond movies, so it wasn't a stretch to get them to take an interest. Its popularity then soared in the last decade.
Australians Love Online Baccarat
When it comes to embracing a new card game, Australian players are always willing to try something different. Casino baccarat has an easy scoring system that gives cards 2 through 9 face value, zero points for face cards, and one point for aces. Scoring becomes very familiar after a few hands, and tied hands become almost as fun and exciting as winning hands.
The house already has a very low advantage in online baccarat, which is another thing that attracts new players. We have even more incentive with our recommended online casino websites, as we have amazing bonuses for new players making their first deposit. Get on the baccarat bandwagon and find out why so many players love it.