Top 10 Tips for Playing at Online Casinos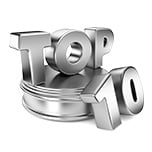 If you are new to online casinos and want to make the most of the experience, our team of industry experts has compiled the following "Top Ten Tips" ensuring you have a good gaming experience. By following these tips you'll have more fun and learn more about the games you play. You might even win a little more cash.
Tip #1: Find a Great Site
There is a world of difference between playing at a great online casino and playing at a terrible one. A great online casino will be fully audited, licensed and secure. A great site will offer a killer welcome bonus, amazing promotions, and big jackpots. Your ideal online casino will offer hundreds of different games and dozens of varieties of your favourite table games, like blackjack. By playing at a great site, you will keep your funds safe and have no shortage of promotions to enjoy and jackpots to hit.
Tip #2: Use Your Welcome Bonus
The welcome bonus given by online casinos is easily the biggest one offered to players. Many people make the mistake of making a small initial deposit when they should be maximising their bankroll to get as much bonus funds as possible. Many sites allow you to really swell your bankroll, but do be sure to check the rules of the bonus to understand what it takes to unlock those funds.
Tip #3: Bet Within Your Limits
It's well documented that experts at any game always say the number one failing of promising players is that they move up in stakes too soon and fail to stay within their bankroll limits. Do not be impatient with your funds, even if you are on a heater or a cold streak. Abide by your bankroll management system and always stay within your limits. Once you are ready, and don't feel the added pressure of playing at new levels, you can move up and enjoy higher limits at your game of choice.
Tip #4: Don't Drink and Play
While we might all enjoy a cold beverage and some gaming action after a long day at work, the truth is the two do not mix well at all. Alcohol is a big no-no when you log in and play casino games. Drinking will diminish your thinking skills and take away your ability to play your best. Land-based casinos give away drinks for free because it gives them a better edge. Don't fall into this trap and save the beverages for after your session at the tables.
Tip #5: Play Profitable Games – and Know the Odds!
Clearly, there are some casino games that offer better odds than others. Smart players understand the odds at all the different games offered and stick to the ones that provide them with the best chance of winning. Study the games you want to play and if a game seems woefully challenging in terms of odds, save it for your "fun" session and only play it for minimal amounts of money that you don't mind losing.
Tip #6: Take Breaks and Do Not Play Tired
This dovetails the previous tip about not drinking when you are playing. Anything that diminishes your brain power is a bad thing when playing casino games. According to ergonomic studies, people should get up and stretch every 50 minutes while using a computer. This serves for a perfect benchmark for online casino players as well. Try to take regular breaks and when you know you are tired, wrap up your session as quickly as possible. Remember that people make the most mistakes when they are fatigued!
Tip #7: Don't Chase Losses – Know When to Walk Away
Inevitably a cold streak hits every player. Smart players are prepared for such a situation and know when to walk away once they hit their stop loss. If you are not familiar with the term, a stop loss is a pre-set amount that a player will determine to be their benchmark to end a session. Many players have made the grave mistake of trying to chase losses during a session and gone from bad to worse. Know when it's time to walk away and live to fight another day.
Tip #8: Understand Luck
Remember that casino games in general have a luck factor that has to be considered. Mathematicians call this variance, meaning that the laws of probability can be highly volatile when examined in the short term. If you hit a cold streak, do not curse and kick your computer, or take it out on loved ones. Remember that hot and cold streaks happen online just like they do at land casinos. Take it in stride and keep your composure so you can play your best.
Tip #9: Study the Rules
Whenever you play a new game, do not wager a single dollar until you have read, understood, and studied the rules. Never try to "learn on the fly" because that will be a very costly lesson that could have been avoided altogether. All online casinos post the rules to every game they offer and doing a simple internet search for the game can also reveal some great strategies that players share to help each other out. Study the rules, understand how the game works, read up on strategy, and then attack the tables.
Tip #10: Play For Free Until You Grasp the Rules and Strategy
Players should actually engage the "play money" tables before tackling the real money tables when learning new games. If you read the rules, study some strategy and then practice with play money before playing for real, you will put yourself in the best possible position to dominate the game and win some serious funds. Get the experience necessary first and do not "pay an expensive lesson" when you can learn for free.