10 Reasons Why Online Casinos Are Great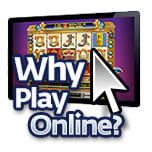 While many players have made the switch from playing at land-based casinos to online ones, there are many people who still worry about making the switch. It's understandable that some Aussies would be curious about online gaming thanks to the lucrative welcome bonuses and wide variety of games, but at the same time worry about fraud and security. On this page, we will break down ten of the best reasons for playing at an online casino, while also looking at some of the disadvantages.
Let's take a look at some of the advantages…
Welcome Bonuses
If you were to walk into any land casino in Australia and tell them you are a new player in their establishment, you would get a smile and, if you are lucky, a coupon book to the gift store. If you were to join any online casino in Australia as a new member, you would be greeted with a huge bonus of free cash. Clearly, this is a huge advantage that online casinos offer and one of the main reasons gamblers enjoy playing online.
Convenience 24/7
If you want to ride out a hot streak and you are playing in a casino, you will have to worry about food, drink and your ride home. If you are having a hot streak online, all of those things are never a concern. Plus, with Internet gambling you save time and gas because there is no commute to the local casino. Online sites are open 24/7 and even have customer service reps standing by should you ever need one.
Security
All of the recommended online casinos at our site have passed multiple independent security audits. They leverage the latest internet technologies available, including 128-bit or 256-bit encryption to ensure that your personal information, logins, passwords and wagers are kept safe. Typically the encryption algorithms and certificates used by the online casinos are the same as those used by banks and other financial institutions.
Anonymity
If you would rather stay anonymous with your gaming activities, playing online represents the ultimate ability to keep under the radar. It would be impossible to pull off any sort of anonymity at a land-based casino without a wardrobe expert and an on-call make-up artist. Playing online allows you to log in and play without anyone knowing who you are, save for the house.
Great Software
Casino technology has advanced greatly in the past few years to take advantage of broadband speeds and improved processors. Most online casinos have specifically tailored their software to work on a wide variety of computers, so even if your system is several years old, the software will adapt to make sure you have an excellent user experience. Also, the sounds and animations at both table games and pokies are outstanding, bringing a new level of excitement and interactivity to online gaming.
Variety of Games
At a local casino, players will see a few types of pokies, some table games, and occasionally a poker room. At all online casinos, players will see hundreds of different pokies to play, dozens of varieties of various table games, and plenty of other activities to enjoy. Thanks to the low overhead an online casino represents, there is a limitless supply of games online casinos can offer. With land based casinos, they are limited by space, budget, and manpower.
Promotions / VIP Programs
Typically land-based casinos do have a VIP program that offers occasional goodies like a free trip to the buffet, a free night's stay at the hotel, or discounts on spa treatments. Online casinos also have VIP programs which typically offer free money to members. The average gambler will choose cold, hard cash as opposed to cucumber eye treatments any day of the week. Online sites typically run some sort of site-wide promotion once every few months on top of their regular VIP program.
Multi-Tabling Games
Can you imagine if you tried to play a hand of blackjack, Pai Gow and some slots all at the same time while visiting a regular casino? Chances are a very large security guard would escort you right out of the building rather quickly. At online casinos this behaviour is encouraged, as more play means you unlock your bonus quicker and also climb the VIP ranks faster. Plus, it's just more fun to be playing multiple games at a time.
Sports Betting & Poker
Not all casinos in Australia offer sports betting and poker. However, there are quite a few here that have pokies, table games, sports betting, and poker all under one virtual roof. With a wider variety of players in the mix, the experience improves for all the players. For example, with more players and a wider variety of games being played, the average progressive jackpot is far superior to sites or land-based casinos where they only offer one type of game.
Easy Mindshare
If you are looking to improve at your favourite game, what better place to read articles and watch videos than at your home computer on the internet? There are tips for every casino game ever invented right at your fingertips. You can also join chat rooms and forums to talk strategy and pick up a few new moves that might make a dramatic improvement in your ROI, something that you would be hard pressed to do at a regular casino.
But there is one disadvantage…
Missing the Action from the Floor
Players that exclusively play online do miss the action from the casino floor. Hearing the sound of the pokies paying off, players screaming in delight as they hit their number in craps, or celebrate a 21 are all part of the casino experience. Playing online lacks this experience, which does diminish the overall amount of fun players have while gambling.