Aussie Online Casino Security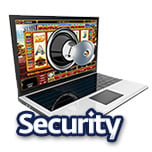 Many people are worried, for good reason, about the safety of online casinos. These sites house players' personal information such as their email address, login, password, mailing address, and even some financial information like credit card numbers. Clearly, security is of paramount concern to players and casino operators alike.
On this page we'll look at the various checks and audits that online casinos go through, talk about how regulation works, and examine banking security. We'll even take a look at posted payout percentages and compare land casinos to their online counterparts to see who is best.
Who Checks Online Casinos?
We make sure to showcase online casinos that meet the highest standards set by multiple auditing organizations. There are organisations who are well known and accepted within the global online gambling industry that are hired by all of the top casinos to make sure they pass all security and penetration tests.
One such organization is eCOGRA, which is a London-based agency that is internationally accredited for testing for player protection and operating standards within organisations. eCOGRA has been around since 2003 and their seal of approval is widely believed to be the de facto standard that all top sites should attain.
How are Online Casinos Checked?
Internet professionals both internal to online casinos and to external penetration testing companies regularly review all security processes, workflows, and standards of operation. Both sides test via automated scripts designed to attack any penetration point in the software repeatedly, to make sure there are no holes for hackers to get into. At the same time, manual audits are taking place to make sure there are no loopholes exposed in the UI for people to exploit. These tests are part of the regular operations for all of the top online casinos in Australia.
What Encryption Levels Do Sites Use?
All of the best casinos use cutting edge encryption software to ensure all data safety. Almost universally, online sites will employ P128 SSL (Secure Socket Layer) Digital Encryption for every digital transaction. This means that all logins, wagers, casino activities and financial transactions are covered under this protection. This is the same high level standard used by all major banks and financial institutions.
How are Online Casinos Audited Independently?
Organisations such as eCOGRA are hired by casinos or by trade associations to independently audit software. They are not employees of the casino and can have no affiliations to the casinos that they audit. At the same time, many casinos hire multiple independent companies for penetration testing to make sure they don't rely solely on one source for testing, even if they happen to be the biggest and the best in the world.
About Banking Security
As stated before, all of the top casino sites in Australia leverage 128-bit SSL digital encryption for all data exchange. This means that all financial transactions, such as using a credit card to post funds into your account, will be secure using this thick layer of encryption protection.
Do Online Casinos Payout More than Land Casinos?
Just like at land-based casinos, the best online sites will post their payout percentages. Online sites typically average between 96-97% which is audited by the aforementioned security auditing groups. At land-based casinos the average payout is between 95-96% so the slight edge for payouts does go to online casinos.