What is a Welcome Bonus?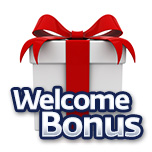 A welcome bonus is an amount of money an online casino awards new players the first time they make a real money deposit. It is a means of attracting gamblers - and is highly effective because everyone likes free money. Welcome bonuses are often the biggest of all the bonuses offered by Aussie casinos, although regular players also get special bonuses. Gamblers do need to be careful, however, when as casinos can vary in how they award their welcome bonuses.
Why Do Online Casinos Offer Welcome Bonuses?
Online casinos offer welcome bonuses because their overhead is so low that they can pass those savings on to their customers. Obviously, lucrative welcome bonus win over new players and keep them playing online. It is one way that Internet gambling sites stand out from the crowd and offer a better experience than land-based casinos.
What Types of Welcome Bonuses Exist
There are a couple of different welcome bonus offers that players should be aware of when looking for new casinos to join. The most common offer of all is the standard matching bonus where a casino will match funds, up to a certain percentage, in a bonus.
These typically start at a 100% match at most casinos and, if you time it right, you might even get a 200-400% match on your first bonus. This means if you decided to deposit $500 and you joined a casino that featured a 300% welcome bonus, your total bonus would be a whopping $1,500!
Besides the standard matching bonus, there is a "No Deposit" bonus that is sometimes offered to players. No deposit casinos are ones that basically give away free money without requiring a real money deposit. If you feel like joining a casino but don't want to play with your own cash, look for this kind of offer. When opening an account, and verifying your identity (rules vary between casinos), you will be given a set amount of casino chips to play with. These funds are not eligible to be withdrawn and you will have to complete the wagering requirements in order to turn the casino chips into actual "real" funds for your account. If you're strapped for cash or want to try out a casino before you make a large deposit, this is a great option to look for.
How to Unlock a Bonus
Obviously, online casinos do not print money and hand out cash for free to all takers. All sites basically work the same way and with the same general rules. Again, be sure to read the fine print to understand the terms each casino offers.
On average, there is a requirement to play about twenty times the bonus you wish to unlock. This means to unlock a bonus of $250, you would need to wager $5,000.
While that might seem like a lot of money, remember that $5,000 of wagering is only 500 hands of blackjack if you are playing just $10 a hand. Most Internet players can play about 100 hands of blackjack per hour, or even more if they play multiple wagers per round. These figures are fairly typical for casino bonuses, so use this as a rule of thumb to figure out how many wagers and how much time it'll take to get your bonus.
Playing the Right Games
Another tip all good players need to be aware of is that to unlock your bonus quickly you need to play the right games. Some will yield better wager odds, as opposed to those that have terrible odds. Perhaps the most important thing to be aware of is that some casino games will not count towards your playthrough requirement.
Specifically, some casinos state that Pai Gow Poker and/or Blackjack are not eligible to count toward the required wagers to unlock a bonus. Some casinos do allow those games, so be sure to check whether your favourite game contributes towards unlocking your bonus.
Example Playthroughs with Different Games to Unlock a Bonus
Let's say your deposit bonus was $500 and you are looking to unlock it as efficiently as possible. If the multiplier was 20x as in the previous example, this would require you to wager $10,000 to receive that $500 bonus. For this example, we'll say that you prefer to only wager $5 a hand (again, assuming blackjack is eligible).
Bonus: $500
Requirement: 20x
Wager Amount Required: $10,000
Your average wager: $5
$10,000 divided by $5 = 2,000 hands of blackjack needed to unlock the bonus
2,000 hands divided by 100 hands per hour = 20 hours
In this scenario, playing low-stakes blackjack, you can earn a free $500 in just 20 hours of time, which for the average player will happen in about a week or two tops. As you can see, when breaking down the bonus mathematically, it does not seem so daunting to unlock.
Let's say you decided to play craps to unlock your bonus. This time we'll say on average you are wagering $20 on the pass line and your bonus is a whopping $1,000. We'll assume that the wager requirement is the same and in the average craps game players can get about 60 wagers per hour.
Bonus: $1,000
Requirement: 20x
Wager Amount Required: $20,000
$20,000 divided by $20 = 1,000 wagers
1,000 wagers divided by 60 wagers per hour = 16.67 hours
Once again the math, when broken down, is not difficult at all to calculate and show that unlocking even a four-figure bonus can be easy. Smart players look for casinos that offer high bonuses, low requirements, and allow your best games to count towards bonus play. Be one of those smart players and come in with a game plan when unlocking a big welcome bonus.
Why welcome bonuses are important
Welcome bonuses are a must for any player joining an online casino. They represent the biggest bonus players will ever receive and are often extremely lucrative. By taking advantage of a welcome bonus, players can ride out any bad streak they might face, or, use the bonus as a serious bankroll booster to start playing higher limits in a very short amount of time. Do not waste this one-time opportunity these casinos offer with a small initial deposit. Be a smart player and maximise your bankroll.
How Big Should My Initial Deposit Be?
Welcome deposit bonuses are applied to the first deposit players make. Therefore, in order to get the biggest deposit bonus, you will need to make the largest deposit possible when you sign up. The math is simple – the more money you deposit to start, the bigger your bonus will be. Let's think of it in terms of the way players can unlock their bonuses from the perspective of the time and effort it will take to receive the bonus money.
Player Blue – Makes a $500 deposit, gets a $500 bonus, with a 20x requirement. We know that Player Blue will need to wager $10,000 and if he plays $5 craps (at 60 wagers per hour) it will take him about 33.3 hours to capture that bonus.
Player Red – Makes a $750 deposit, gets $750 bonus, with the same 20x requirement. Player Red decides to play $10 blackjack (assuming it's an eligible game) and at 100 hands per hour, unlocks the bonus in just 15 hours.
As you can see, bigger is definitely better when bonuses and initial deposits are concerned. Make that investment up front to maximise the bonus offer and your bankroll will swell with some solid play and a little luck.