History of Gambling in Australia
The Beginning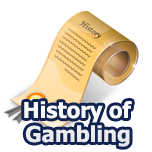 Aside from various parts of Asia, Australia has one of the largest gambling cultures in the world thanks, in part, to its natives' love of slot machines or pokies as they're more commonly known. Ever since the first legal casino, Wrest Point Hotel and Casino, opened in 1973, Australia's gambling scene has increased dramatically to the point where there are now 13 major casinos in operation across the country.
Much more than simple gaming establishments, many of these venues are major entertainment destinations filled with shops, restaurants, bars, nightclubs and theatres. Indeed, in much the same vein as Las Vegas, Australia's casinos are an extension of a gaming culture which spreads throughout all areas of it society.
Hot Slots and Modern Day Habits
Today the annual revenue of Australia's top land-based casinos exceeds $5 billion and since 2008 more than 20,000 people have been employed by the largest operators. On top of this, Australian casinos have become a major source of revenue over the last 20 years with more than 50 million tourists coming from around the world to wager some money inside one of the larger gaming outlets. Indeed, the Crown Casino, Melbourne, is one of the most recognisable casinos in the world and is seen by many industry experts as a strong rival to many of the major outfits in Las Vegas and Macau.
Today, as has traditionally been the case, every major casino or venue with a gaming licence likes to spread one game more than any other: pokies. These computerised games can be found the length and breadth of Australia and are by far the most popular gambling pastime in the country.
So what are pokies? Basically, for anyone outside of Australia, pokies are slot machines that contain a series of spinning reels or a selection of poker hands. Offering huge payouts for a small investment, these games generate a huge amount of revenue for the Australian gambling industry and recent estimates claim that for every $1 spent at a racetrack, $5 is wagered on a pokie.
Thus, if you're looking to break into Australian gambling culture, then video slots are the simplest way. However, be warned, despite these games being the most popular in the country, they actually offer some of the worst odds. Indeed, if you're looking for propositions with a positive expectation, then it's much wiser to focus on table games such as roulette and blackjack rather than pokies.
The Growth of Online Casinos in Australia
Although Australia has had an intimate love affair with live gambling over the past forty years, its feelings towards online casinos hasn't been so warm. Indeed, since the implementation of the Interactive Gaming Act (IGA) in 2001, the virtual industry has operated in a grey area. Although this hasn't prevented the majority of Australian citizens from gambling online - if anything it's helped diversify their betting habits - the legal restrictions have somewhat hampered the industry's growth.
One thing that is clear, however, is that Australians are now gambling more than ever thanks to the expansion of online gaming. Having always been a culture where risk and reward reigns supreme, the ability to wager money from home has been positive for both players and operators.
Your Place in History
If you're looking to build a bankroll and experience a buoyant gambling economy then you should look no further than Australia. Unlike many countries, Australia has always embraced gambling and has used it as a means of funding a number of activities such as local community projects and sports teams. Thus, if there's one place where you can find a plethora of ways to speculate and make a profit, it's Australia.