A Guide to Australia's Online Gambling Laws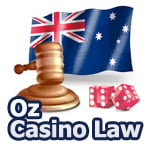 Taking your online casino profits sky-high in the land Down Under has been made possible by an explosion of virtual operators in recent years; however, with online gaming still a grey area, it can be difficult to know where you stand. Thankfully, we've scoured the statutes, liaised with legal eagles and put together a comprehensive guide to the legality of online casinos in Australia.
The Winds of Change
The first thing to say about the legal landscape in the Australian casino world is that it's prone to change. Despite staying relatively stable for the last couple of years, the propensity for MPs to alter their stance towards online casinos can often be unexpected and purposeful. For this reason it's always a good idea to check the legal status of virtual gambling in your area.
Regardless of how tempestuous the online casino ecosystem in Australia is the main thing to note is that almost all regulatory points are aimed at Aussie casino operators and note punters. Although the Interactive Gambling Act (IGA) of 2001 does include some restrictions on players, the overall focus is on providers and their services. Moreover, the current Australian government has made problem gambling its priority and it focusing its efforts on self-exclusion programs and counselling for those in trouble.
Online Casinos in Australia are Legal
As the above header says, online gaming in Australia is, by and large, legal. This means that you can log into one of our top Aussie casinos and enjoy the rush of roulette or the seduction of slots without fear of legal reprisal.
To paraphrase the IGA, the following services are not allowed to be offered in Australia:
"Real-money online interactive gambling services" to Australian citizens.
"Advertising real-money interactive gambling services" to Australian citizens.
However, while these restrictions currently stand in place, a number of offshore companies continue to advertise and serve Australians and, so far, virtually none of them have been the subject of a government shutdown. Indeed, even if some online casinos in Australia are in violation of the IGA, the ability to prevent foreign operations falls largely beyond the scope of the Australian government.
The Legal Specifics
One fact which can't be disputed when assessing the legality of Australia's online gambling community is that both sports betting and lotteries are 100% acceptable. Excluded from the IGA, these two activities are legally allowed to serve and advertise to Australian citizens so long as they are linked to a land-based casino. In a similar way to the evolution of state regulated online gaming in the US, so long as a virtual operator has a live counterpart, it is accepted by the government as a lawful service.
One point at which sports betting does fall into a dispute with the IGA is in-play betting. Wagers before a match are deemed legal; however, those placed during a game are classed as "interactive" and thus definable by the IGA. However, in the same way as online casino games in Australia, this is still a grey area and not something the government has pursued particularly vigorously.
Australian Online Casino Laws at a Glance
We know our overview of the online gaming laws in Australian has been somewhat grey, but this is basically a product of the system. Although certain restrictions exist, the bottom-line as it stands at the moment is that online casinos in Australia are legal and their customers aren't liable for prosecution.
To help summarise the situation, take a look at our checklist:
Is there an Australian law covering online gambling? Yes, the IGA was designed to protect Australian citizens from issues related to fraud and problem gambling.
Has anyone ever been prosecuted for playing at an Australian online casino? No. The IGA does not criminalise citizens and, thus, can't be prosecuted.
What options do Aussie gamblers have? At present Australian punters have the ability to play on a number of online casinos such as Spin Palace Casino, Platinum Play and Ruby Fortune.
What does the future hold? The status of online gambling in Australia will likely be somewhat bumpy, but the bottom-line is that it will likely remain legal for many years to come.